Premiere: Helvaetra
"Helvaetra"
1/21/22 | J. Proust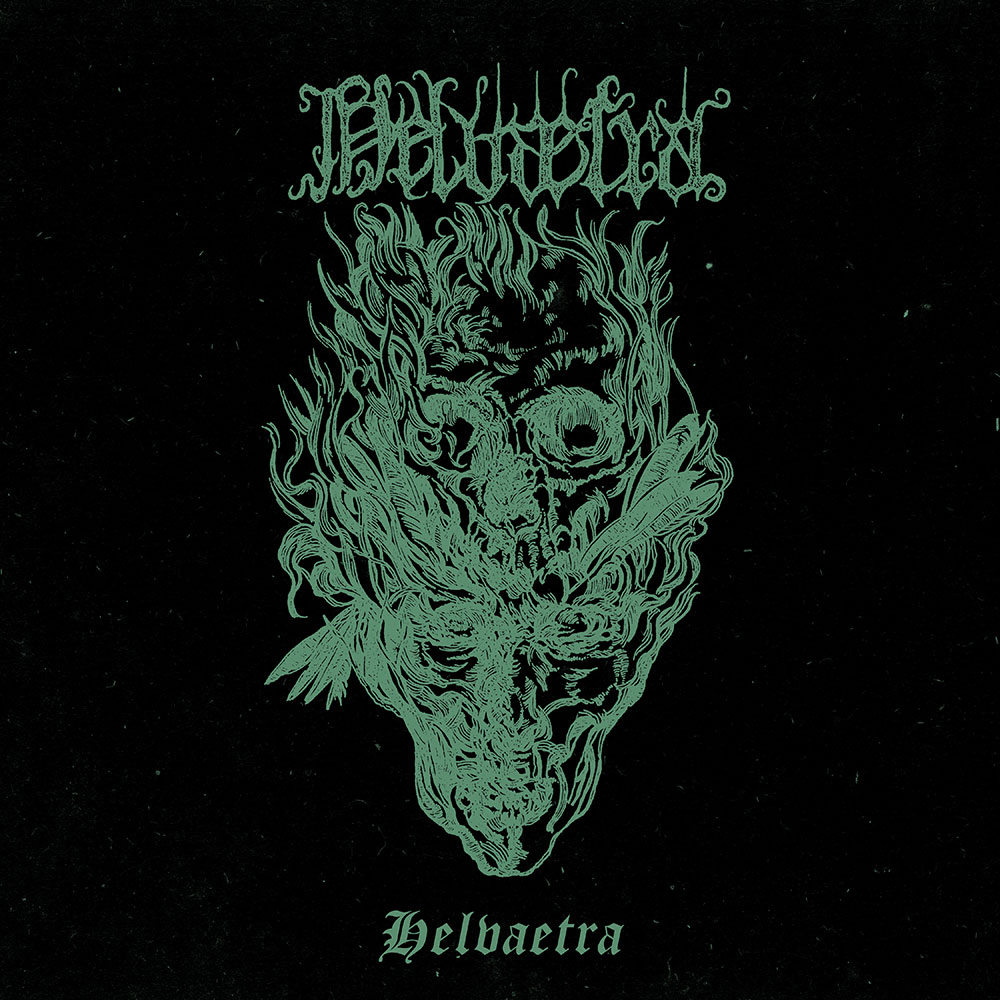 Available tomorrow in the form of 50 cassette tapes from Blutrausch Propaganda, the debut and final release from Helvaetra collects three tracks of live-recorded, raw and cacophonous full-band black metal. According to a former member of the band, "Helvaetra is, or should I rather say, was, a fiveh-eaded ensemble, located in Germany."
Our unnamed source continues: "We all knew each other for several years prior to forming Helvaetra, so we weren't strangers to each other. Everyone was involved in their own several bands and projects before Helvaetra was formed.
"With a barren local scene in terms of black metal with any sort of ambition or integrity, Helvaetra was formed to make our vision of what black metal should sound like, a reality," they inform us. "The pieces fit together right from the start, all of us had his main-instrument to operate, resulting in the musical duties being spread across the members easily. [...] When it came to materialising the music itself, everyone had his fair share of inspirations from musicians and bands we all like and consider old and also modern pillars of black metal. I think when you listen to the material closely, you will be able to hear some of that influences unfolding. Besides black metal being the main ingredient, we also had some noise and power electronical influences, which can be heard in the intros, interludes and outros between the songs."
Note also, that Side B of Helvaetra, as is hinted by its title "arteavleH," is Side A, in its entirety, in reverse. Side A unfolds across three tracks.
"Thematically the three songs tell some kind of loose story," our correspondent within the band begins. "It is about recognizing and reaching godlike potential. As Humanity fails to evolve but rather riding the downward spiral of failure and parasitical behaviour, one nameless individual transforms into a godlike being, reaching its beyond-human potential through consuming himself with teeth and fire. This transformation unleashes a firestorm, a somewhat 'fire of potential' upon the planet, cleansing everything that lives and breathes. With the individual being the only form left, it is upon him to create a new world and lifeform as he sees fit."
Helvaetra sounds as if it was all recorded in a single session at the band's practice space, with every member playing and being recorded at the same time. It's a rehearsal tape, essentially, but, more so than most other rehearsal tapes, there are post-fallout hellscape atmospheric conditions that lend the already-intense music a frightening claustrophobia.

"The demo was recorded in our rehearsal chamber somewhere around 2017 in one take," confirms our man on the inside. "We wanted to give the material the raw and genuine feel of a live recording, aiming to make our vision as honest as humanly possible. Possessed by this approach, we recorded a lot of one takes over several weeks and months, with the version you are able to hear now being the somewhat best. Every take demanded a great amount of energy and I think that the listener will be able to hear this exact energy on the tape."
Hear the energy? The listener can feel this energy in his teeth. I can smell the energy. It smells like burning fur and deep forest loam. And yet, this is it. This is the alpha and omega of Helvaetra. What we're hearing is what we've got. Quote the raven, "Nevermore."
"In 2018, Helvaetra was laid to rest consensually by all band members and it initially was never the intention to release [these recordings]," says the anonymous member. "We shared it with some close friends and associates and the response was very positive, telling us to release this raw piece of audio [...] In 2021, we changed our minds and decided to release it. We put a lot of time, work and dedication into these three songs and we came to the conclusion that the material is good enough to see the light of the day, to give Helvaetra a proper farewell."
According to our man, "Blutrausch Propaganda, who is considered a friend of ours and who heard the material before, offered to release it in a small [batch] on tape, which was perfect for us because we always wanted the material to be on tape, if ever to be released at all."
He goes on to tell us that the artwork for Helvaetra's one-and-only release was handled by the short-lived band's "longtime friend" B. from Beyond Art. "In our eyes, the artwork captures the complete spirit of the recording and theme very well," he says. "We are absolutely pleased by the work and comradery the aforementioned two have done to materialize this demo with us together, which makes this farewell to the entity that was Helvaetra, a more than satisfying one."
Unfortunately, he assures us: "As things stand at the moment, there are no plans on writing new material or to play live."
It is likewise my pleasure here at The Call of the Nightito document the brief and clamorous life of Helvaetra who howled like ghouls, conjured true malevolence with their abyssic mid-tempo jams, nor were they were bashful about getting down with the occasional mayhemic black 'n' roll riff. Truly a boon and a loss, simultaneously.
Bonus for the diehards still reading! While you're picking up the Helvaetra tape, check out this insane UFO-fi black metal/alien transmission dark ambient split that also comes out tonight from Blutrausch and AbArtCorruption. Both the Nur'Ma and the Astrogator sides are deeply warped and incredibly entertaining.