Volume Six, April MMXXI
NOTES FROM THE TAPE TRADE UNDERGROUND
To inquire about submitting an analog relic for review, contact thecallofthenight@gmail.com.
ANTI-GOD HAND Endless Excavated Earth (American Decline Records)
A welcome offering made to The Call, Anti-God Hand conjure apocalyptic, cosmically heavy black metal with an abundance of razor-sharp riffs, intricately hammered drum patterns, otherworldly screeches, and dusty, bleak interludes. Refreshingly, as a counterpoint to so many ultra-raw black metal acts making music currently, this Canadian outfit brings off their style of black metal with relative cleanliness, and also doesn't shy away from taking chances in the way of slower, more melodic and experimental passages—both "Wealthy Demons Collect Butterflies" and "Loyalty to a Minor God" carefully interweave these inclusions for maximum dynamic effect. - N.B.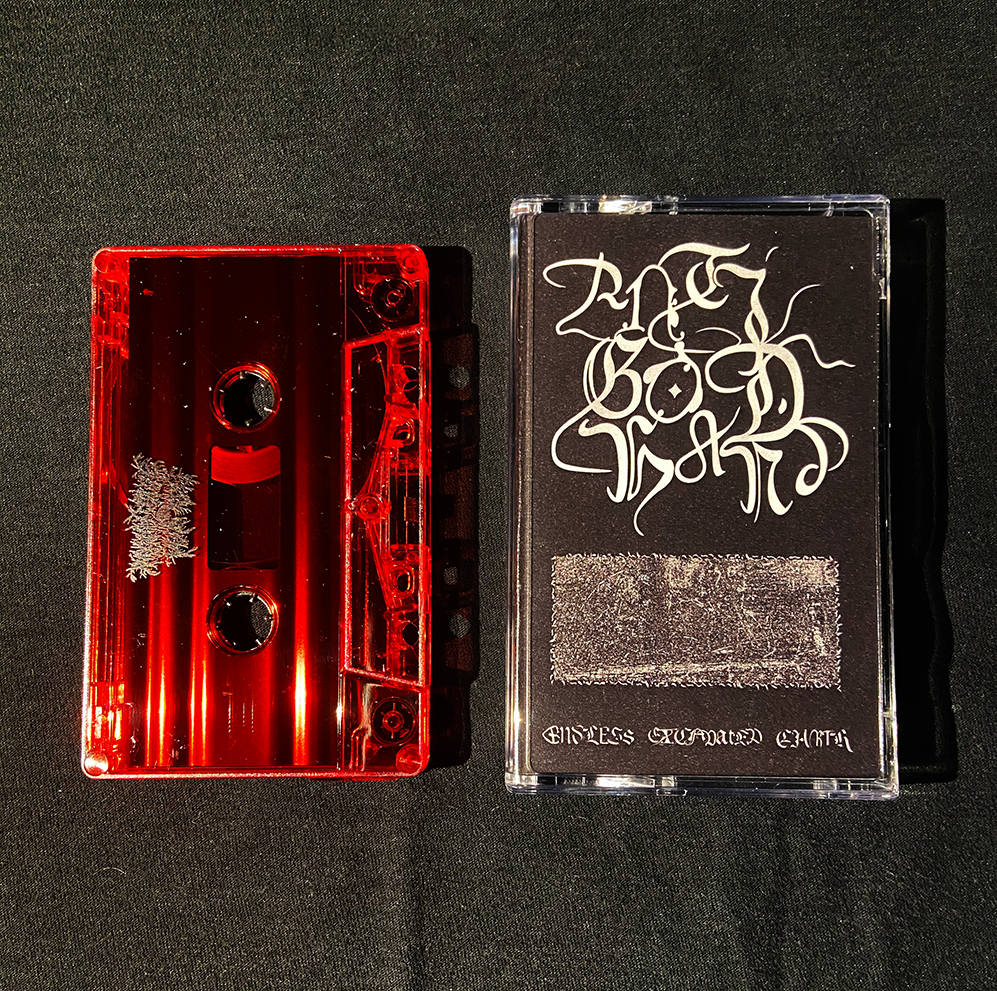 DRELNOCH Groans & Grievances (Moonworshipper)
Eschewing much of black metal's musical traditions, Drelnoch is more accurately the pioneer of morose goblin bar band music. I do not mean this as an insult in the slightest as Groans & Grievances has quite easily made it high on my list of most spun releases of the year thus far. Melancholic, jangle-heavy rock music with groaning croaks for vocals—it simply can't be beat! The occasional synth lead which is made to sound akin to an accordion is a nice change of pace as well. My only real complaint is that at just 8 minutes I feel these songs could've been stretched out and developed just a little more to really sell the sound but I suppose it is better to be left wanting more. I typically have little patience for projects that could be at all described as "goofy" or "tongue-in-cheek" and while there is an undeniable quirkiness to Drelnoch, it is performed with such unflinching conviction that it wins me over effortlessly. Yet another fine release from Nebraska's Moonworshipper Records. A true winner of the year so far. - R.L.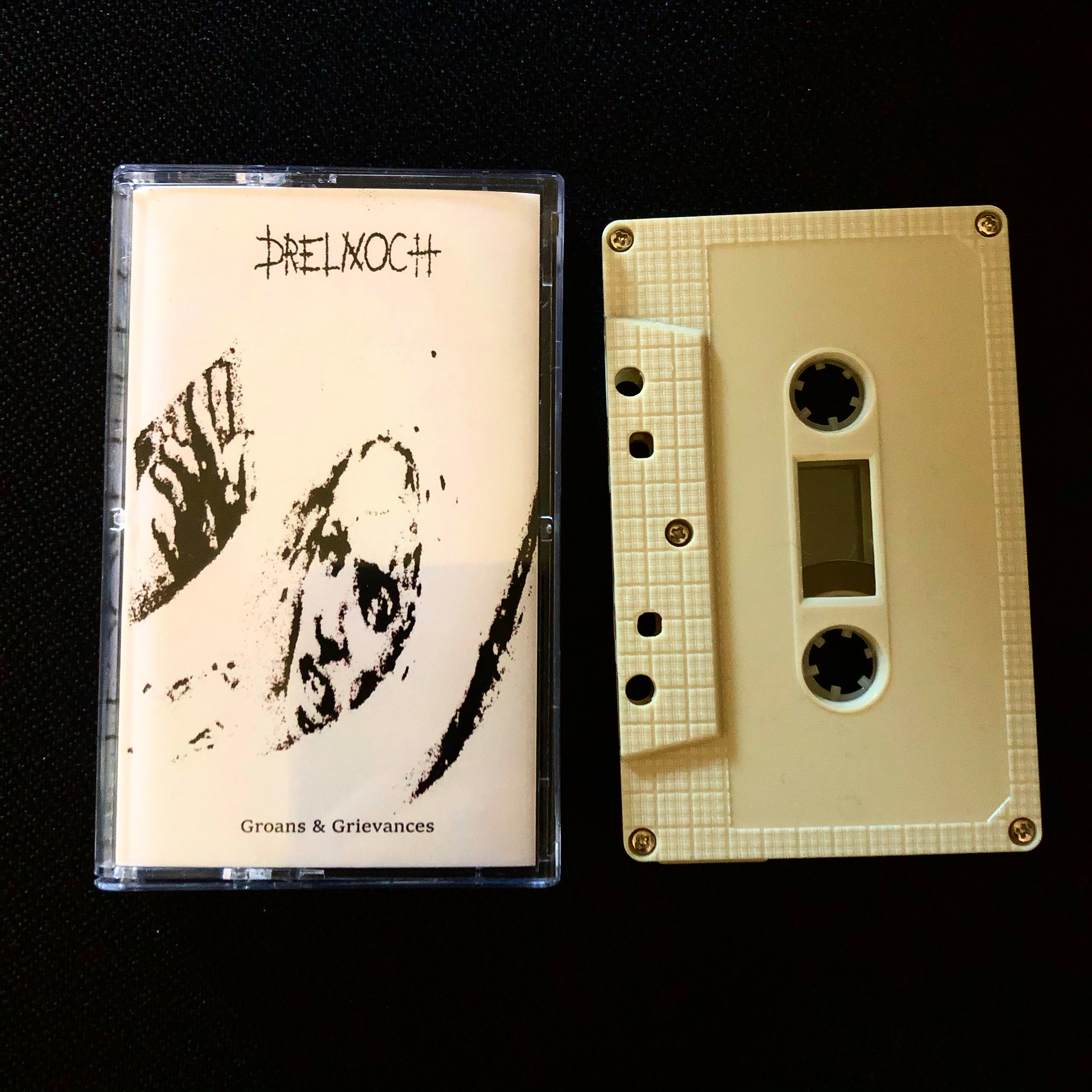 GHOSTWOODS Ghostwoods (Self-released)
Though Fields of Mildew is known for his tenure on the Fallow Field label (which is active again!), the mystery artist behind this project has been active since long before his primary musical vessel's 2015 debut. Though still well within the dark folk realm in which Fields of Mildew resides, the recently unearthed Ghostwoods tape occupies a lighter and more ethereal space from what would follow. Featuring recordings from 2012 and 2013, Ghostwoods' contemplative sounds are less obscure and more straightforward "folk" when compared to Fields of Mildew, but these early folk experiments showcase this artist's raw songwriting talent, often leaning on the minimal and moody to express a feeling of deep and unfiltered sorrow. - J.R.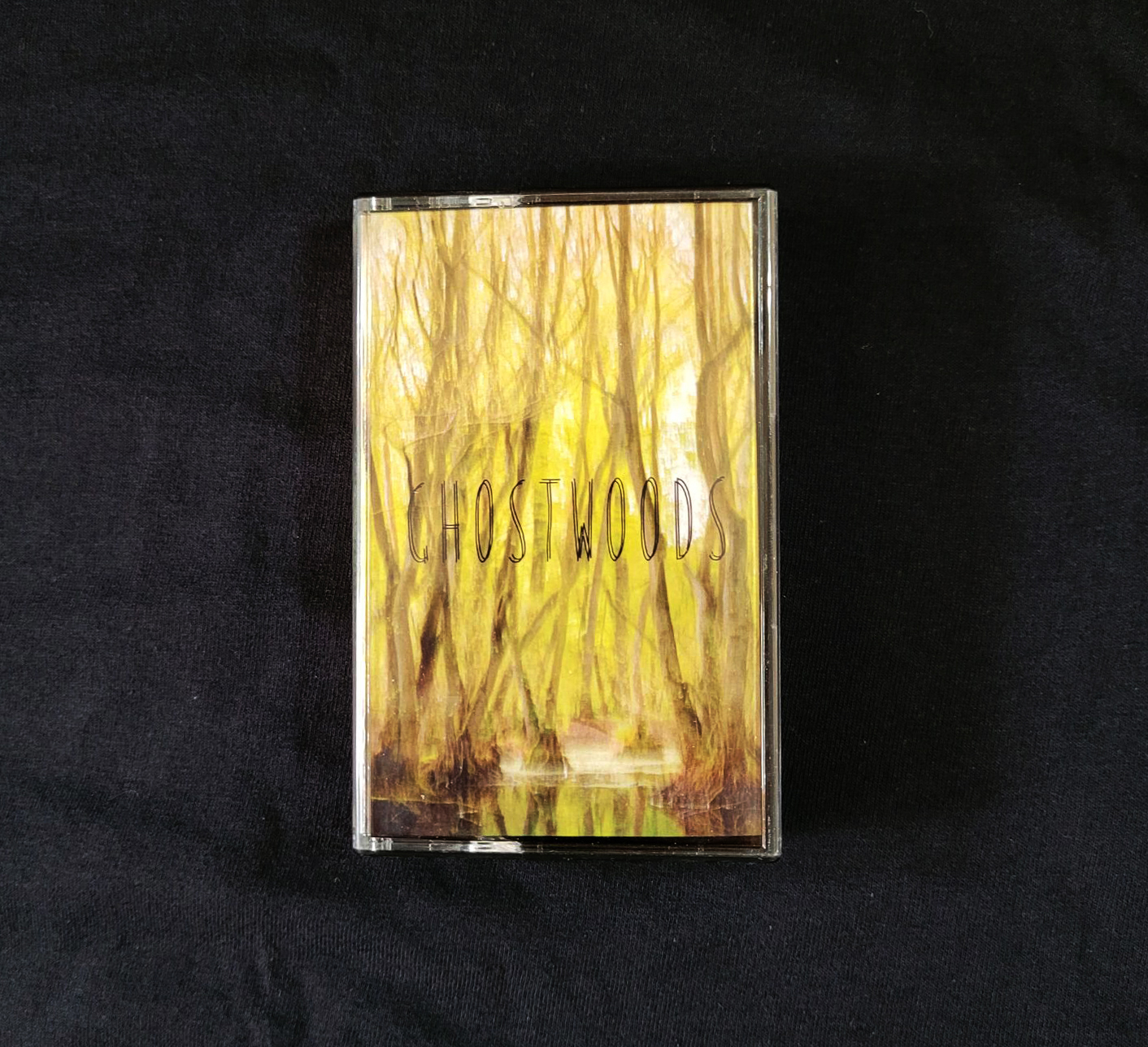 HELLMOON Beneath the Eclipse (JEMS)
Winnipeg's Hellmoon capped off a very busy 2020 with this EP, Beneath the Eclipse. Through multiple splits and their work as a member of Nocturnal Departure, Hellmoon has established themselves as a force to be reckoned with in the contemporary raw black metal landscape. If you consider yourself a follower of the nowadays scene then you owe it to yourself to give this 7" a spin. If the overly brittle and trebly aural aesthetics of other current acts is growing tiresome to you then Beneath the Eclipse offers similar songwriting and energies but with a meatier sound. The vocals are the standout element here as they actually have quite a bit of heft and character to them. JEMS put out this EP on both tape and vinyl, the 7" edition comes pressed on red vinyl and includes a handsome poster. - R.L.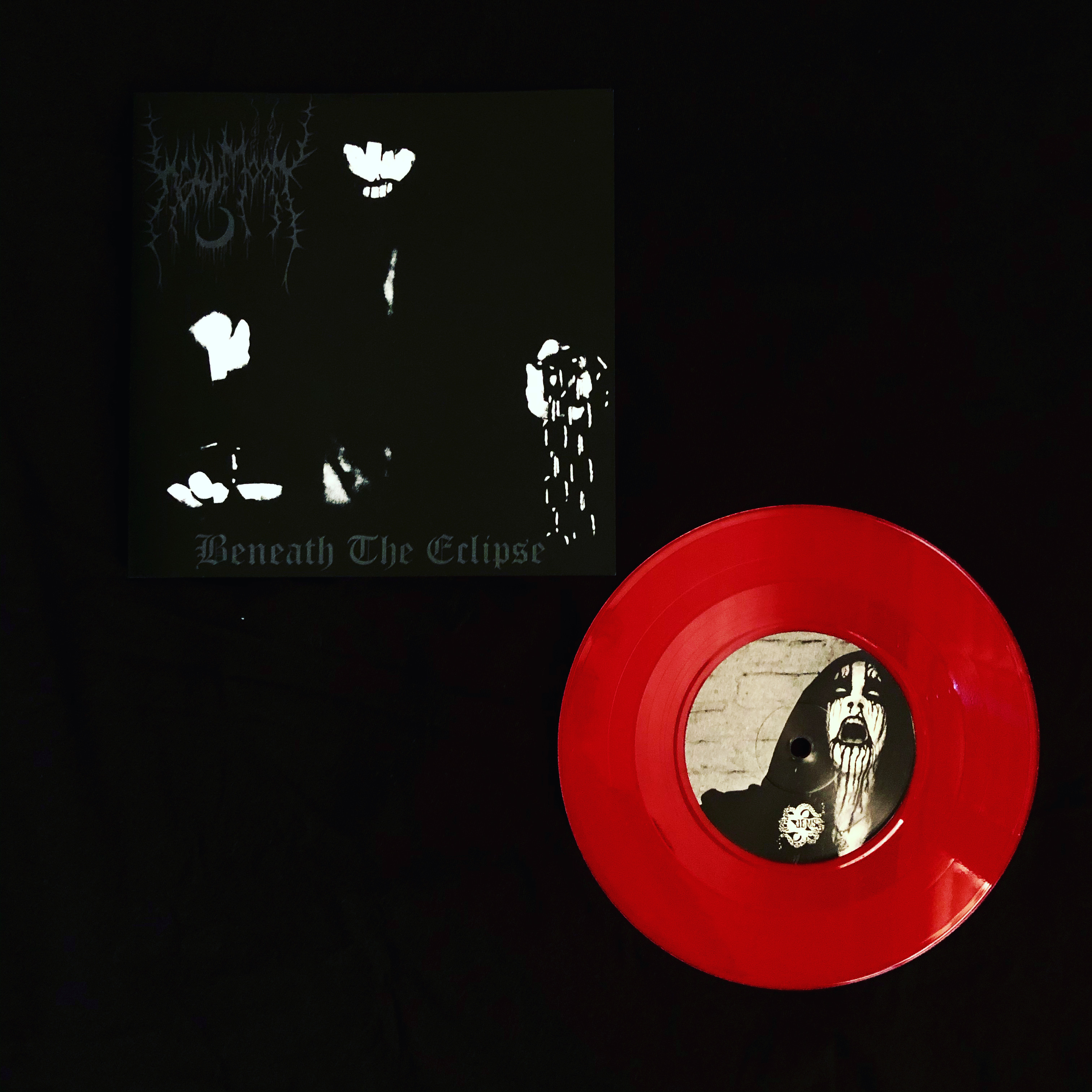 INFINITUM NOCTURNUS Infinitum Nocturnus (Self-released)
Infinitum Nocturnus' debut is a remarkable tape. With production as clear as the coffin on the cover, Infinitum Nocturnus counts four tracks of diamond-sharp, melodically melancholic, synth-augmented black metal flanked by an ambient intro and outro. From the palatial echo on the otherwise completely cacodemonic vocals to the straight-foward layout of the Jcard this demo emanates a distinctly anachronistic vibe. On one hand testifying that true black metal is ultimately timeless, but on the other hand sometimes overwhelming the listener with something like phantom nostalgia. But for four tracks straight, this likely-US-based project wraps romantic riff after romantic riff around the listener, suffocating them with macabre gossamer. Hope you knew well to pick this up from Perverse Homage, too. - J. Proust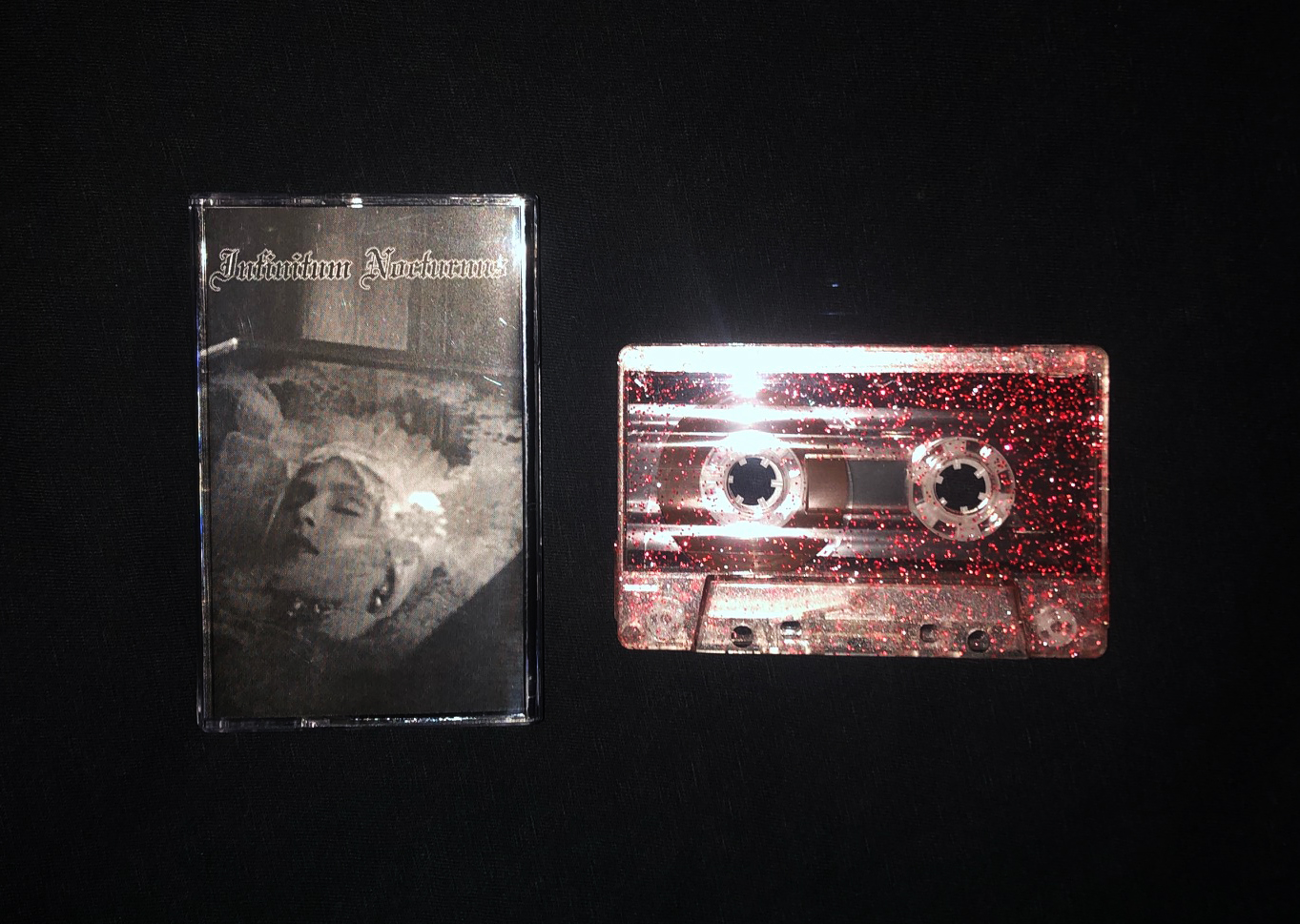 JAEGER Jaeger (Fallow Field)
Jaeger is a new project from the Copenhagen-based Korpsand Circle. Their sound is much more animalistic and brutal than the austere martial black metal more commonly heard booming from the halls of their "Mayhem" base of operations. The cassette cover art depicts a clan of cavemen attempting to fell a mammoth with rocks and that more or less is what is on display here musically. While not the most brain-smashing war metal ever to grace my ears by any stretch, Jaeger is essentially the Danes' version of bestial black/death and the combination of this genre with their easily identifiable hallmarks of riffing and production makes for a very satisfying listen. - R.L.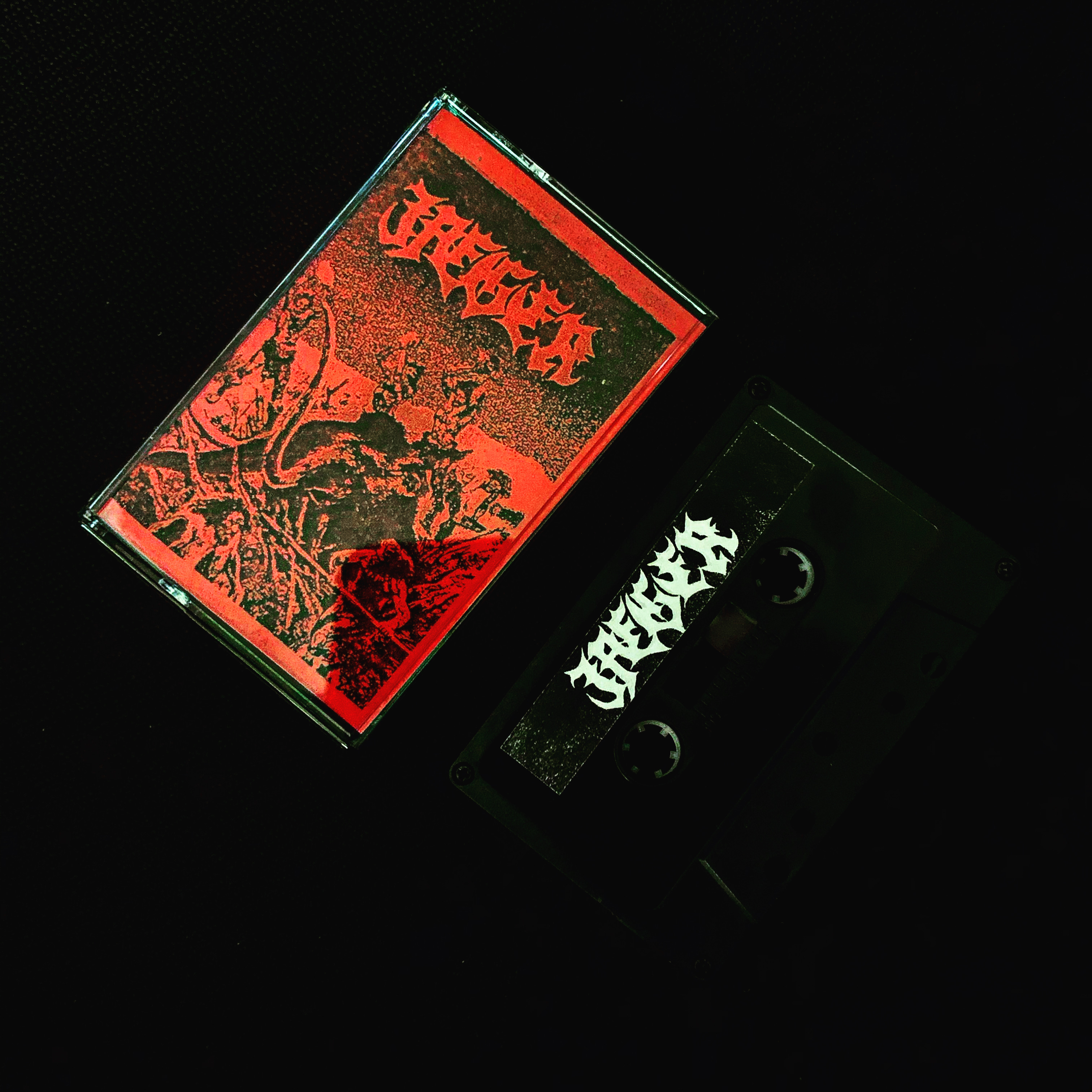 MORBÆRSANGER I (Ritual Abuse/Private release)
Desert-residing dungeon synth artist Morbærsanger's debut tape is eight-and-a-half minutes of pure auditory bliss. Not so much comfy synth as 'leave me here to die beneath this tree so that my bones may become entangled in its roots' synth, Morbærsanger uses single synth lines, intimately lo-fi recording techniques and field recordings of birdsong to convey a sense of time and place far beyond the wretched modern world. Already sold out, so you'll have to make due with the digital files, but if the opportunity ever presents itself definitely seize a copy of this tape. The spell is much more effective when accompanied by the dusty hiss of an obsolete format. - J. Proust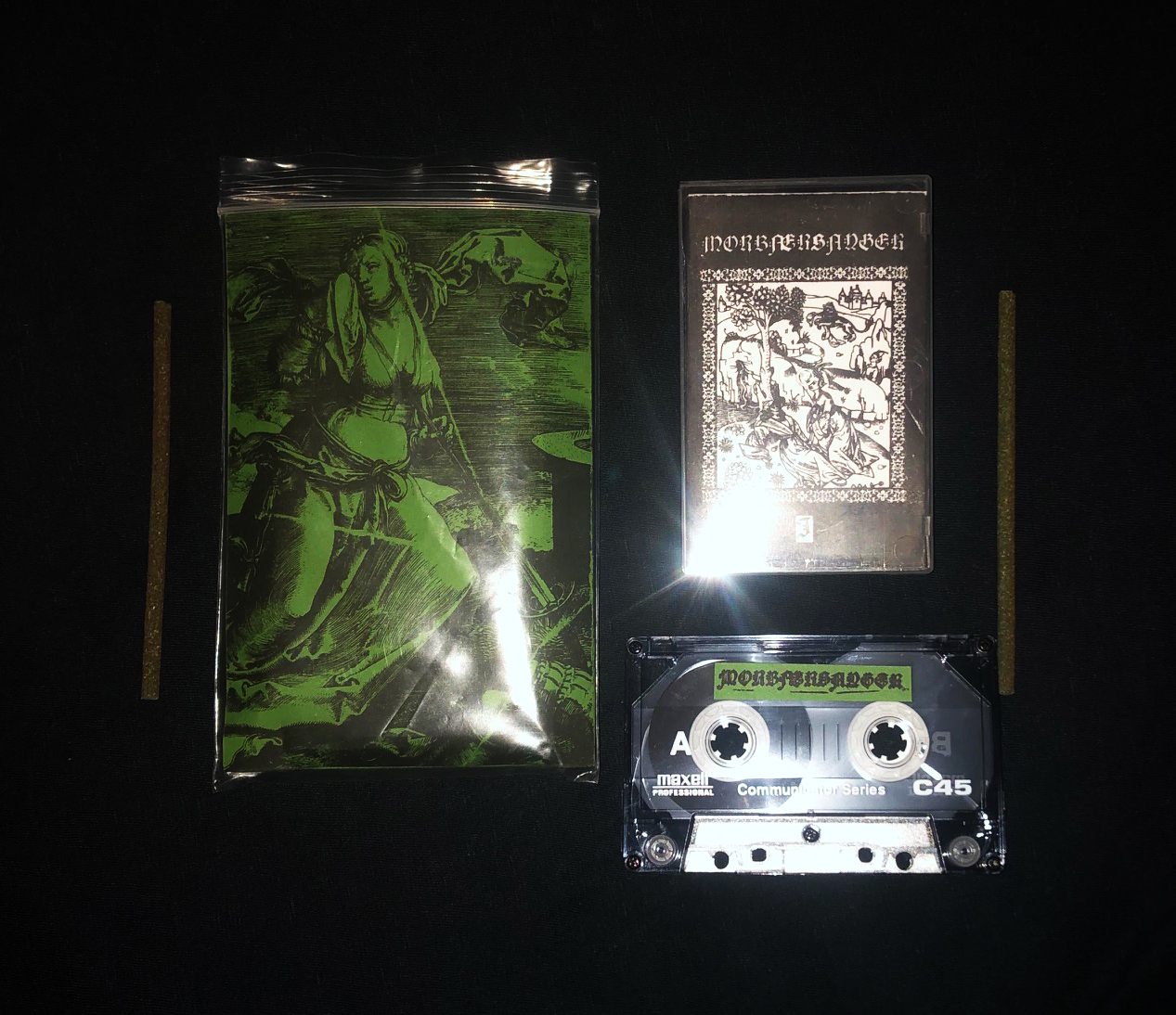 MORIETUR Demo 1 (Nihilistic Morality Productions)
Nihilistic Morality Productions has been holding the blazing torch of Southern California black metal aloft for a few years now, hosting a sizeable horde of bands but first known to me through the likes of the bestial Psychotomimetic and primitive, old-school adherents Baphomancia. Morietur is one of the newer projects to emerge from the fray, playing a less chaotic, more traditional frosty style of black metal but still boasting the booming rawness that makes this grouping of bands generally so appealing. Some intangible factor has for years granted SoCal black metal bands the ability to make music of oppressive, grimy atmosphere with the perfect amount of polish in both production and writing style, such that releases like Morietur's demo are just bound to wear your tape deck the fuck out. - N.B.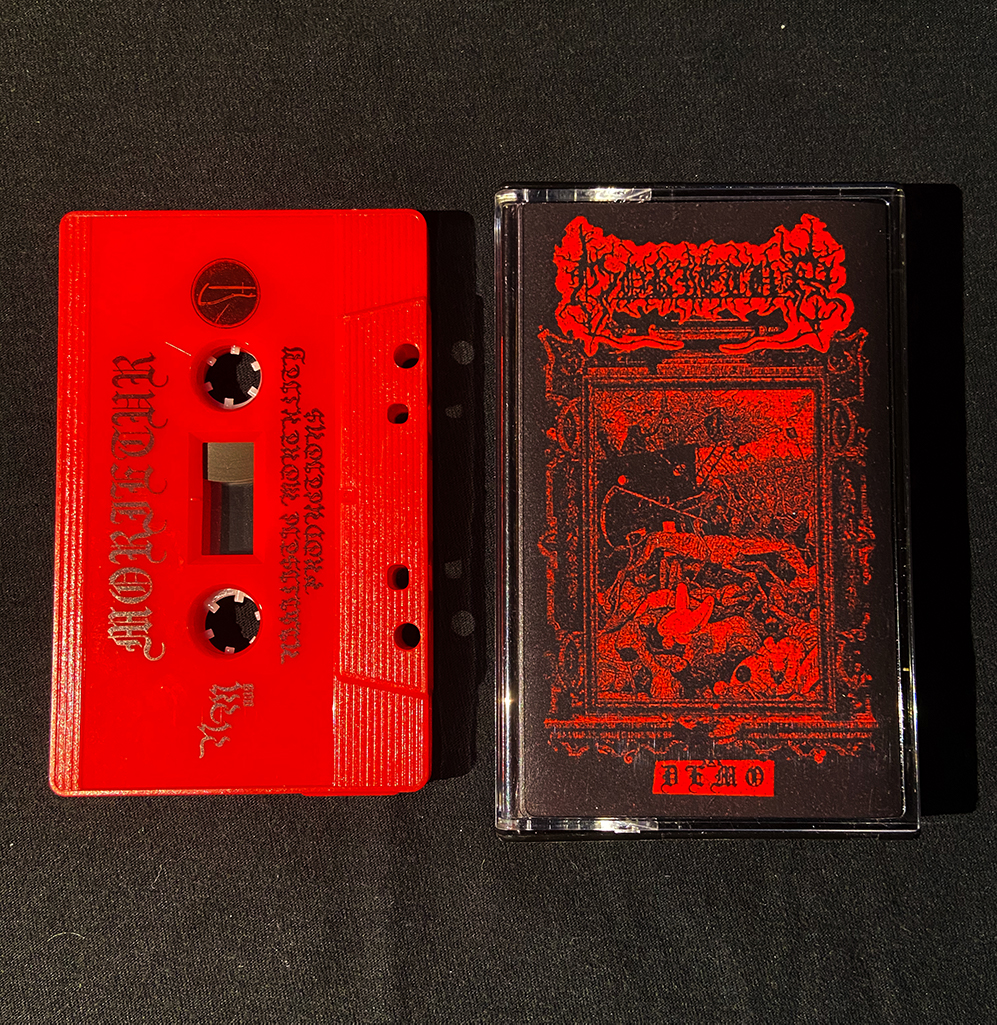 NÅSTROND Digerdöden (Full Moon Productions)
There is an interesting story behind this particular pressing of this early Nåstrond release. Initially released on Full Moon Productions in 1994, the label actually didn't press enough covers to match the accidentally larger pressing. In 2003, the label made the final 166 copies available with a completely new layout and sleeve. The 2003 Digerdöden edition is a bit of a temporal oddity, featuring vinyl from the original, unaltered run, but with a correction in aesthetics made almost a decade later. Musically much rawer and more aggressive than the two demos preceding it, and especially when compared to the (relatively) polished Toteslaut which would follow a year after, Digerdöden is a skeleton nightmare; weapons-laden, desiccated corpses on horseback chasing the listener through a dense, grey forest at dusk. - J.R.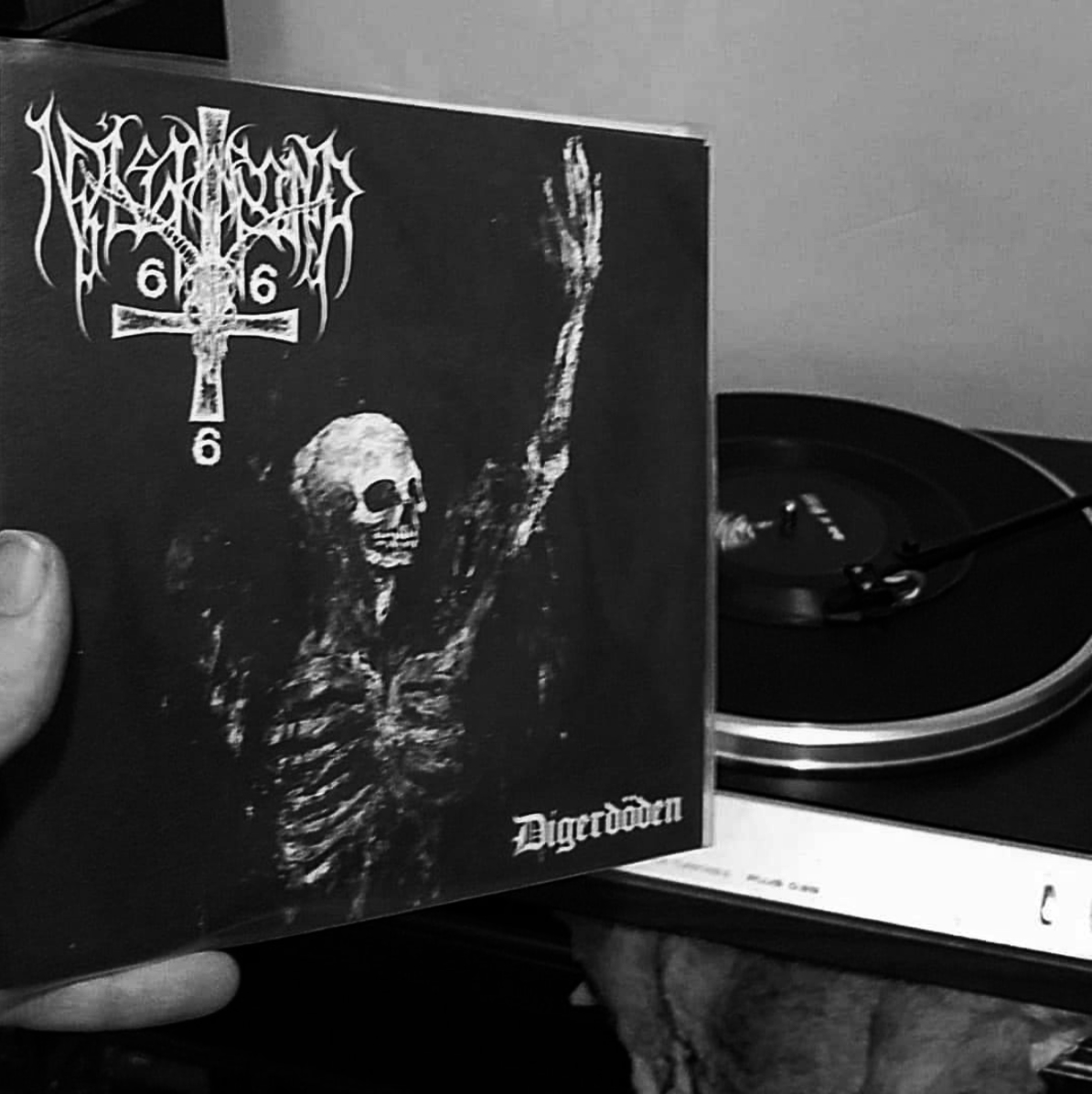 THE WATCHER Your Turn to Die (World in Prison)
From Boston comes heavy doom metal trio The Watcher with Your Turn to Die, probably the mightiest demo we've heard since Eternal Champion's Last King of Pictdom. With more riffs than your dad's entire vinyl collection and drums more perfect than Larry Bird's jumpshot, but what really sets Your Turn to Die apart from all the other really good heavy metal demos of the past decade-plus? Vocalist P. Reeds (the P stands for 'Pipes,' I bet) has a voice that immediately seals the deal. Meanwhile both tracks have just a bit of hardcore cross-contamination that imbues them with an energy that keeps the hooks hitting even after they're tattooed on your brain. Fans of Magister Templi, Magic Circle, and Solstice (UK) cannot listen to this soon enough. - J. Proust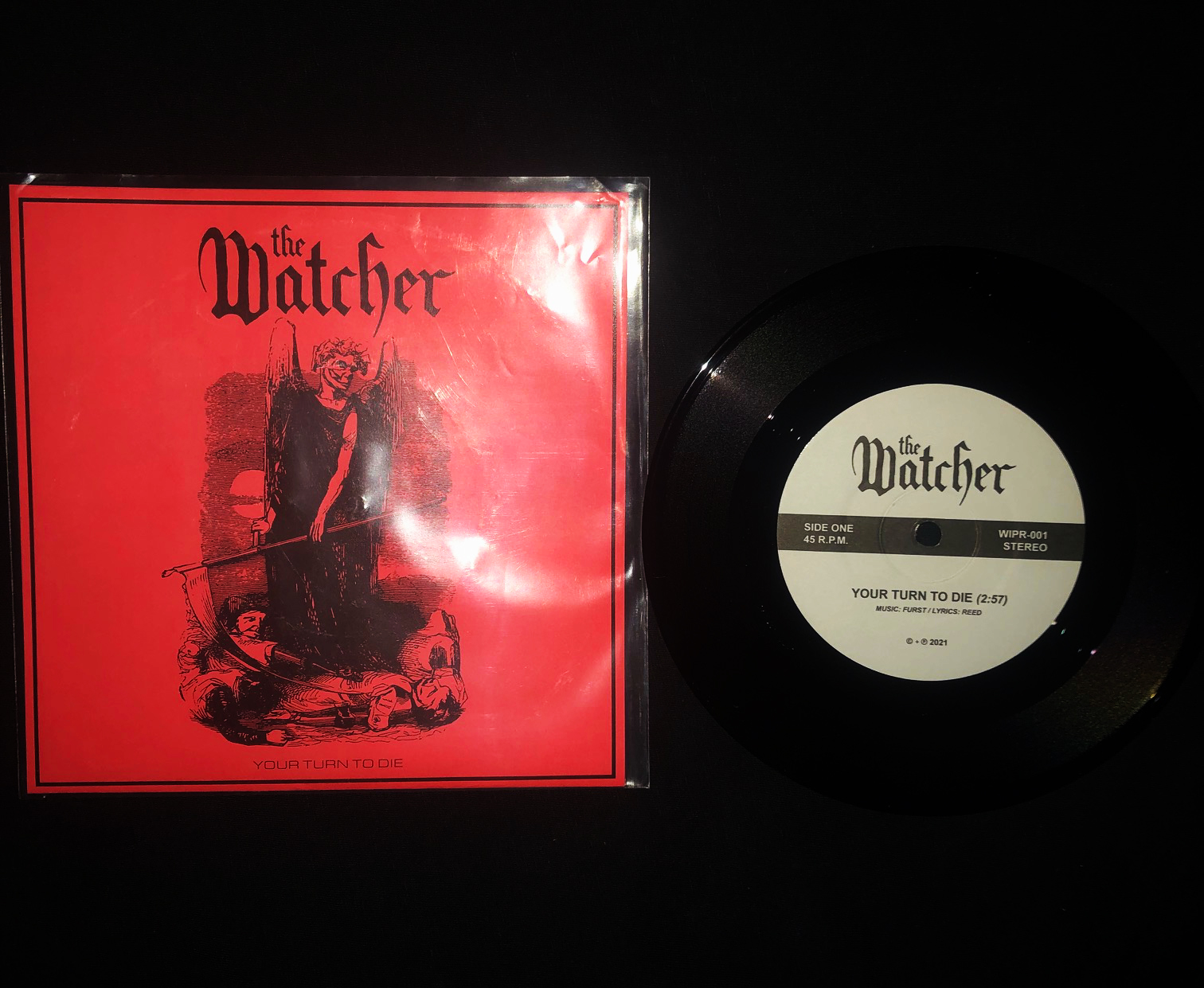 TRHÄ Nvenlanëg (Symbolismus Werke)
Though physical media is ultimately ephemeral, there is something to be said about intricate, over-the-top packaging like this box set. With a symbol evenly etched into a stained, hinged box, the first physical edition of mystery artist Trhä's debut album Nvenlanëg features a rolled and tied scroll in the mystery language the artist created for this project, a numbered tape (out of 30), and hay to keep everything together. I honestly wasn't sure how this project would be physically represented as its existence is so unusual—art filled with butterflies, strictly antisocial behavior, and, well, only really releasing music on Bandcamp set some strange expectations (or lack thereof) for the Trhä project. And yet, it works. This box is sumptuous, yet also rustic, which fits the majestic and incredibly composed but impenetrably raw black metal of Trhä. The tapes inside are also definitely not professionally duplicated, which adds a greater charm to this project, and I'm happy to own a home-dubbed, even buzzier edition of something so unique. - J.R.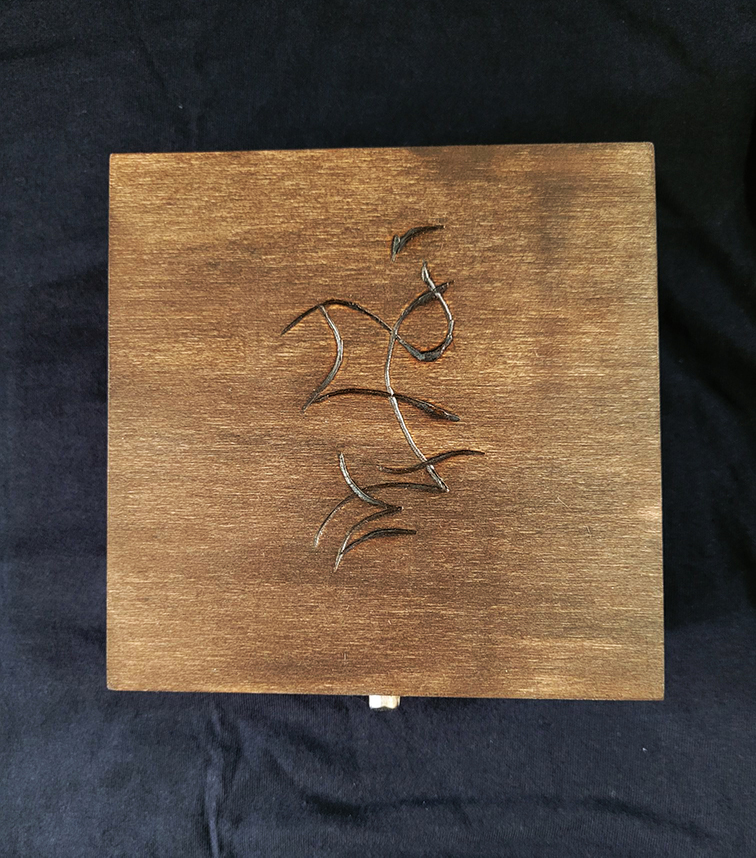 VAMPYRIC BVRIAL Phallic Vampyric Depression + Other Reasons You Should Fucking Die (Old Spire)
GraveLight Order heavyweight Vampyric Bvrial is back with a lengthy tape of otherworldly, esoteric ultra-raw black metal literally hissing with pure anguish. Minimal drumming provides a steady backdrop for a prevalence of snaking guitar lines that vacillate between dismally funereal, maniacal, and at times even displaying something like beautiful, decaying grandeur. The vocal performance on Phallic Vampyric Depression is nothing short of murderous, each line uttered an enraged outpouring of abject hatred and contempt for humanity. Finally, this analog tapestry is threaded with the occasional crude synth line, without which such a release would feel woefully incomplete. - N.B.