Premiere: Apparitional Glare - Black Candle Negativity
4/29/22 | J. Proust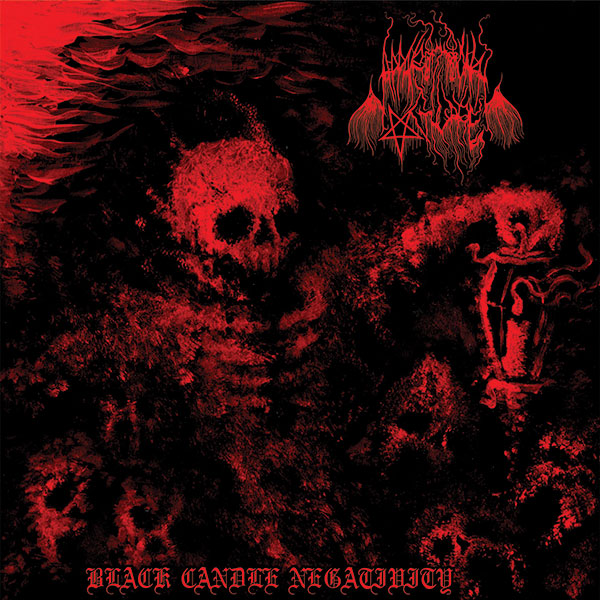 Clamoring, tumultuous and yet deathly hypnotic, Black Candle Negativity is the third full-length release from Canadian paranormal raw black metal activity Apparitional Glare. With its initial chilling exhale in 2021, the six-song debut Abhorrent Essence, Apparitional Glare scarred its harrowing demon-face into the collective black metal unconscious as a solo work from one calling themself Chenor. But, as Chenor tells us, Apparitional Glare "is now composed of two members as of this year, the newest addition being 'Grimlok,' the voice and physical embodiment of death itself…"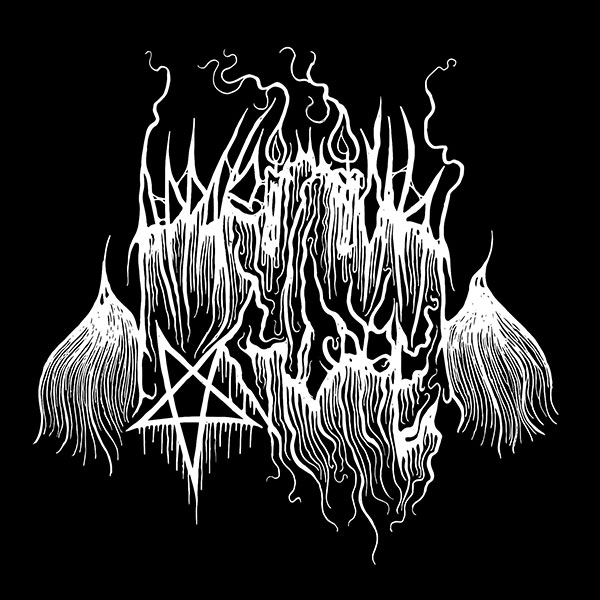 "Apparitional Glare is a virulent expression of blackened energy in musical form," the smoldering shadow that is Chenor continues to say, "influenced by all things malevolent, otherworldly and supernatural. Our band name speaks of the morbid feeling of being lurked upon by unholy death from the afterlife, and what an experience this is... Apparitional Glare started out as a solo effort by myself under the pseudonym cited above. The demon of the same name translates to 'The Wish Granter.'"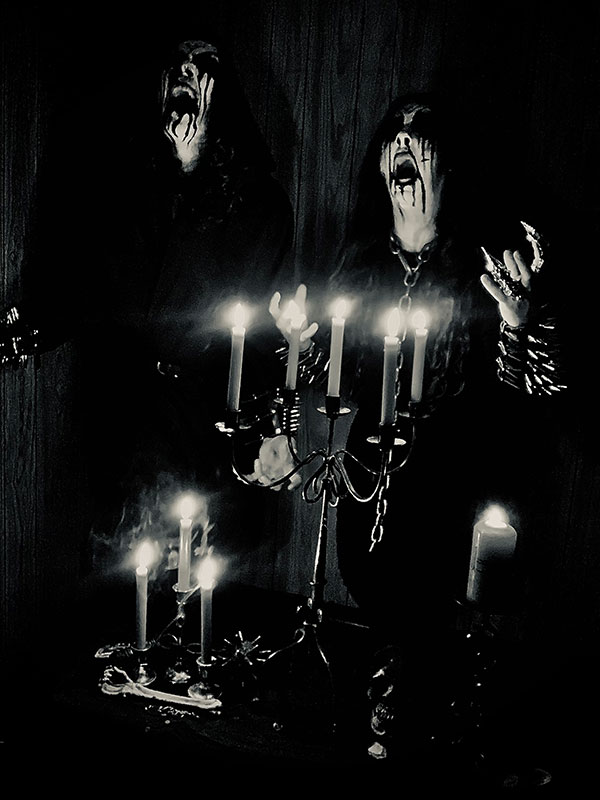 Grimlok first appeared as a guest vocalist on "Necklace Of Teeth," the final song on The Malefic Rite. "Grimlok is responsible for the lyrics and naming the title on this track as well, fitting perfectly with the album and vibe." Chenor continues: "Grimlok's specific brand of frustration and negativity in vocal form matched quite well with the band, and its goals and purpose. Here after, Grimlok was [welcomed] into Apparitional Glare officially as a vocalist and permanent member/songwriter going forward. Their debut performance shall be heard all throughout our new record." Quote Chenor: "Grimlok's vocal style is ghoulishly immaculate, nearly indistinguishable from mine, and a perfect match for the project going forward. This addition of a new member also [paves] a way towards making live performances a possibility in the future."
Speaking to the album's title, Chenor waxes: "Black Candle Negativity is a way of referring to the demon(s) we simultaneously face and evoke daily, while facing our own personal darkness and allowing this same wretched energy to be harnessed and to influence us. This album is meant to be a sign of renewal and represents a majestic purge and emotional catharsis. We hope others who will be listening will relate to this, and find solace and power within this new record as we have."
Chenor continues, discussing Apparitional Glare's approach to writing Black Candle Negativity. From the darkness comes the words: "We took new approaches with our third record in many senses, with both the writing and recording process. We experimented with new soundscapes and ideas, adding layers and taking evolutionary steps. Many different influences and concepts were realized within this album cycle, and both myself and Grimlok felt particularly inspired and rejuvenated during the period this new music was being crafted. We feel a statement has been made with this new album . . ."
Chenor reflects, "Our previous record The Malefic Rite was birthed during a melancholic and grey period, as opposed to Black Candle Negativity, as the onset of the MMXXI winter overcame us. There was a lot going on in our lives mentally, different from the way things are now. The overall sound and approach on The Malefic Rite were to drench the listener in a perpetual gloom, spiralling through levels of agony and sadness. This record was meant to emulate the void we felt we were in at that time. That album represented a specific darkness…"
As for Black Candle Negativity's artwork, as the band ensanguines into a red-and-black motif, Chenor explains that "all of Apparitional Glare's visual presence is handled by [their] dear friend C.H. under the artist name 'Rotting Reign.'" Exudes Chenor: "They are responsible for creating all of our band's art. They have crafted our logo and all our album covers, and inner album illustrations thus far. Rotting Reign is a traditional artist, using an array of mediums and paints, working in a traditional and hand-drawn style. They are a permanent and crucial element to the band's artistic vision and soul."
What about the song "Death Upheaval," we ask. This is an early stand-out. Tell me more...
Chenor: "'Death Upheaval' was created with a sense of extreme loss and dread in tow. 'Death Upheaval' represents haunting energies and feelings, and what it is to be at one's absolute lowest, and to witness this struggle in others. Musically, this track was meant to make the listener feel truly dismal, cold, hopeless and as close to death as a human can experience. This is an aural rendition of something I was personally experiencing at the time, and a way of transposing thoughts and feelings of death and despair that I felt all around me. Making this song and this album helped me move past a lot of personal anguish and inner turmoil, and I hope it can do so for others."
Pressed with picking their own favorite track, they tell us: "This is a hard choice picking just one song as a favourite, as we love this record as a whole, as it was meant to be listened to in such a way. As for a favourite track on the album, ours is without a doubt 'Light Degradation.' This song features some of our greatest collaborative artistic efforts in dramatic cohesion. 'Light Degradation' is the product of a specifically challenging and disruptive period of time for us both, which is less horrible to look back on now that it's been used to create something we both genuinely love. This song stands strong lyrically, musically, artistically, and contains all of our favourite elements from the album within a singular recorded moment. 'Light Degradation' is the track that we feel best concludes the album's sound and purpose."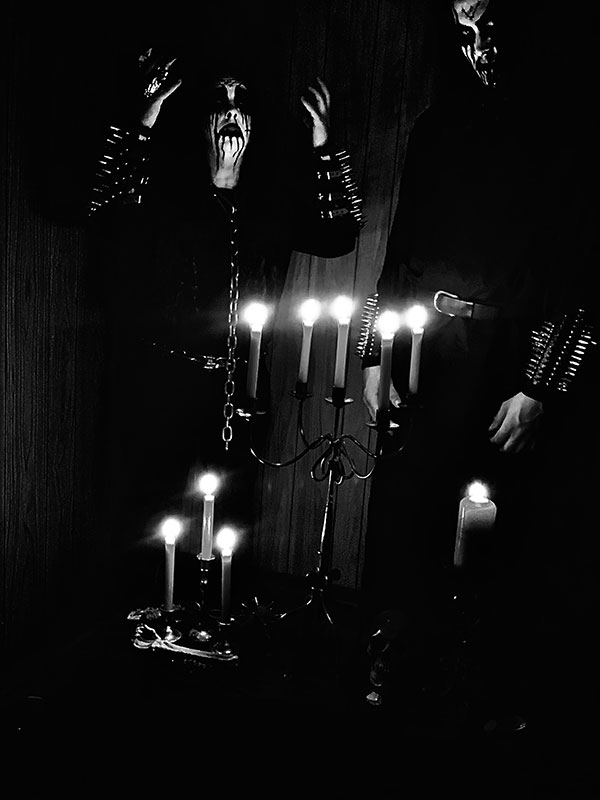 One of the realest, sickest parts of Black Candle Negativity, proof that it's an underground black metal record, dedicated to black metal itself and little else, proof that it truly is cathartic and about dwelling in/purging/dwelling in that Black Candle Negativity are the album's pair of closing covers.
Chenor speaks: "I had the absolute pleasure of witnessing Black Cilice live, some years ago… It was a life changing experience to say the very least, and a magical live musical demonstration unlike any other. I find their musical catalogue to be extremely inspiring and near flawless. I cannot think of a better example of a band that sums up the musical soundscape of the afterworld evoked, and this became a rough template and grounds I built upon when initially starting up Apparitional Glare. 'To Become' was the first Black Cilice song I ever heard. This track is the album opener for their release 'Mysteries,' which stands as my favourite work of theirs to this day. Preparing this cover for our new album was an homage to Black Cilice, their respective works and the sheer black metal mysticism they create."
Grimlok agrees. "Black Cilice was one of the first black metal bands I listened to when I discovered my love for black metal around 2019, so this was a logical decision for us both to make this cover! As for the Lifelover cover, we wanted to switch things up from the usual audio assault and hopefully trip up the listener at the same time, keeping things interesting."
Chenor continues: "'Expandera' by Lifelover was something I had been listening to around the time [Black Candle Negativity] was made. The mix of melody and darkness on this track is contagious, and I felt it fit well with the album as I had already been incorporating some of these elements into the new songs, in terms of guitar layering, keyboard sections and so forth. Myself and Grimlok are both influenced by an array of different music and we wanted to portray that within the new album, as well as with these cover tracks."
Chenor goes on to inform us: "Black Candle Negativity will be released on limited analog cassette format, in conspiracy with the great JEMS LABEL (USA) on the 29th of April, MMXXII.
"Apparitional Glare extend our eternal gratitude to J. Proust and The Call of the Night, for the incredible opportunity given to us in the form of this interview, and for discussing our project, its brief history, and our new album in honest and intimate detail. Thank you to all who support us, JEMS Label, The Call of the Night. A massive thanks to all who check out our new album and this interview."
Order Black Candle Negativity on tape from JEMS