Volume Three, December MMXX
NOTES FROM THE TAPE TRADE UNDERGROUND
ALKILITH Live Rehearsal MMXX (Self-released)
This isn't the first time we've discussed Alkilith here at The Call of the Night and in a very short period of time this artist has made quite the name for himself. Following a successful live stream as part of the Northeast Dungeon Siege 'Dungeon Skirmish' live video series and a host of self- and pro-released cassettes, Alkilith offers a more human look into his minimal, noisy take on the dungeon synth style. Raw in a way that's comparable to black metal, but still grounded in the melodic tones of dungeon synth's whimsy, Alkilith's recording of his Dungeon Skirmish live set offers a variety of songs from across his discography performed and recorded in the woods of Wisconsin. -J.R.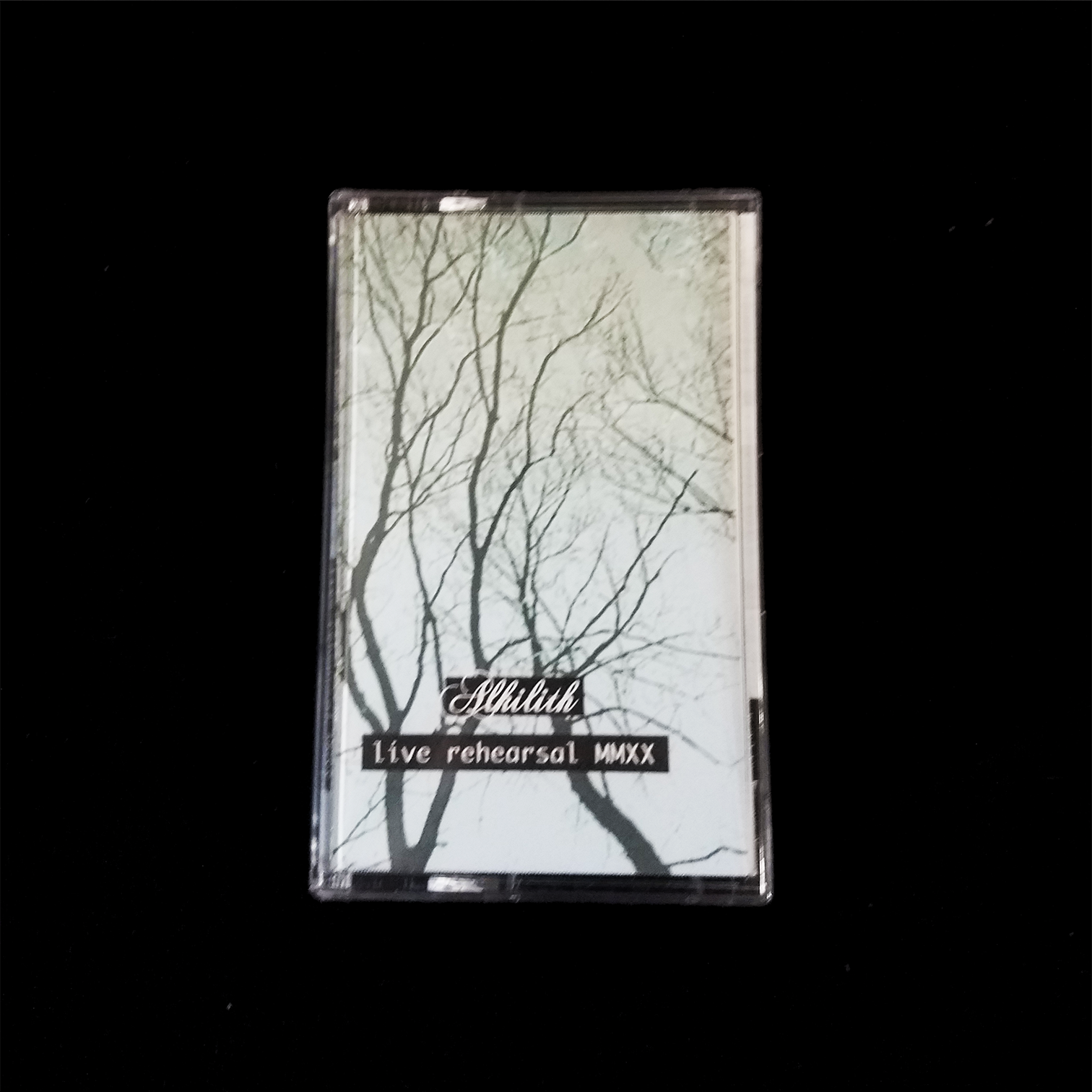 AOS Beat The Ground (Self-released)
Rapturous, triumphant, synth-heavy occult raw black metal by the mastermind of Black Epheria, Nahadoth, and too many other projects to name – here known as Augoeides. Beat The Ground hearkens back to the black metal and dungeon synth demos of yesteryear (see: the mid 1990s) both in sound and in style but is marked by the artist's use of unconventional (for black metal) chords and harmonies that permeate their body of work, as well as a sprinkling of curiously uplifting melody that enhances the album's flavor. Rounding out the aesthetic of Beat The Ground is the artist's classic ink-adorned "cassingle" style packaging featuring their own unique, hand-drawn occult artwork and DIY printed cover. -N.B.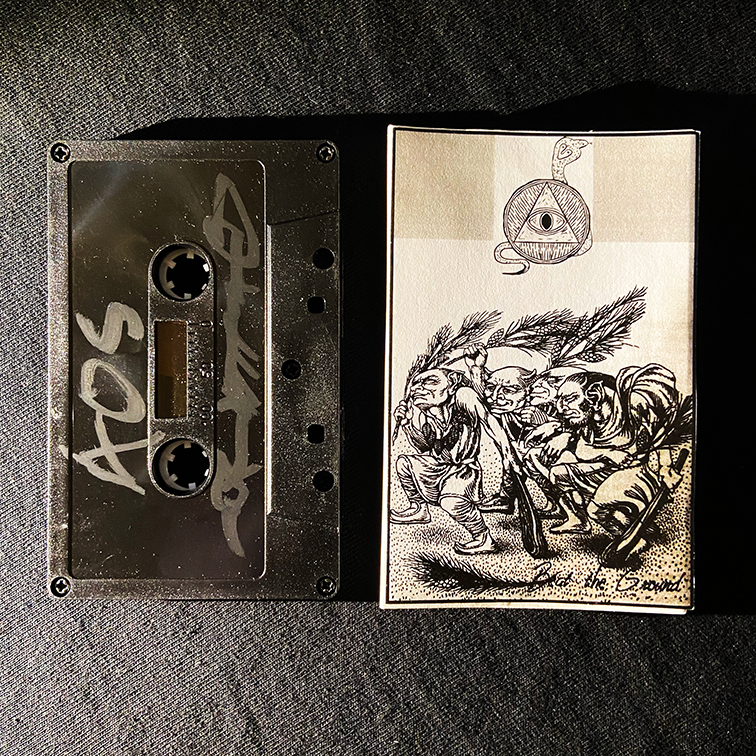 CRUCIFIED SERPENT/SATURNAL BLOOD Split Demo (Spiritual Disease)
Last month a small corner of the black metal underground became fascinated with the arrival of a new label with an eye-catching visual aesthetic and curiosity-piquing band names. Spiritual Disease is the name of that label and their debut slate of releases disappeared just as quickly as they arrived, not once,but twice as a reissue was prepared and sold out in short order. The tape with the first catalog number is this split from Crucified Serpent and Saturnal Blood, simply titled Split Demo. Crucified Serpent gets the A-side and as with the other tapes from this freshly emerged label, it is my strong suspicion that the artists behind these projects (however many individuals it may actually be) have spent some time in the world of punk and hardcore before trying their hand at black metal. The abbreviated run-time and bass guitar-heavy head-nodding riffs definitely belong to the longstanding tradition of blackened punk. I would say this project has a foot more firmly rooted in the hardcore tradition than some other recent punk-inflected black metal projects. Whether or not that is irksome is at the discretion of the listener. The Saturnal Blood (which the j-card clarifies is indeed the same musicians as Crucified Serpent) offering on side B is one long track of dark ambient rumblings. Scraping metal and amplifier feedback provide splashes of potential power electronics influence. While it is a plenty evocative piece, one can't help but think it would work more effectively as interlude between other metal songs as opposed to a standalone composition. The art and layout is outrageous black metal xerox violence and I think there is promise here but whether or not these dark artists will be able to shed some of their punk rock trappings and fully devote to black metal remains to be seen. -R.L.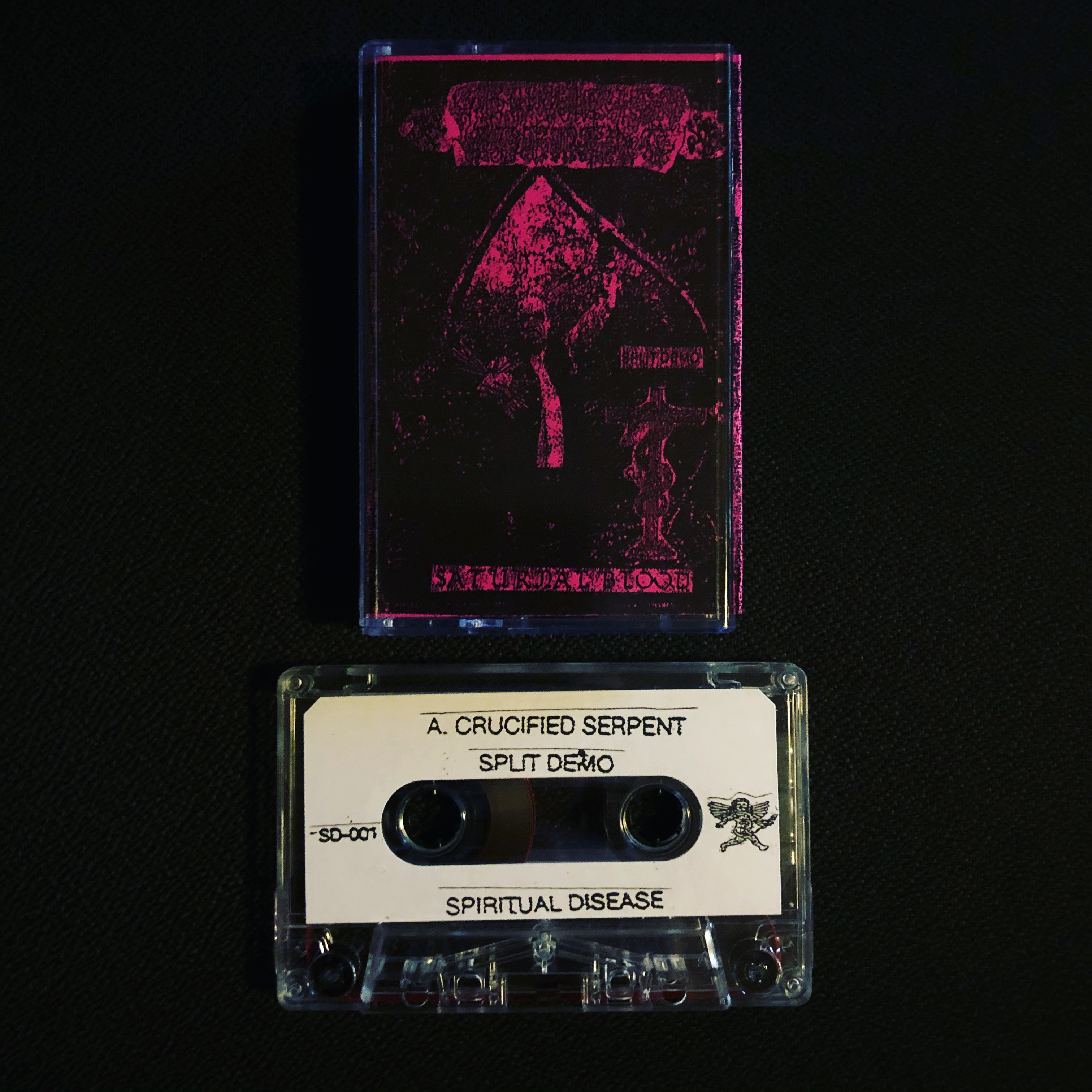 EMPYREAN GRACE Bestowment of the Seraphic Key (Haeresis Noviomagi)
This new project from the Dutch cohort who brought us Turia, Iskandr, Solar Temple, and others is one of their most powerful invocations to date. These folks have always leaned towards presenting longer format compositions but have more recently been presenting their efforts as single-track hypnotic episodes, recorded live – a smart direction that really fits their music hand-in-glove and distills its essence. Bestowment of the Seraphic Key is 29 minutes of driving, luminescent, atmospheric black metal divided into but a few small sections that punctuate its slow-morphing, crescendoing riffs. -N.B.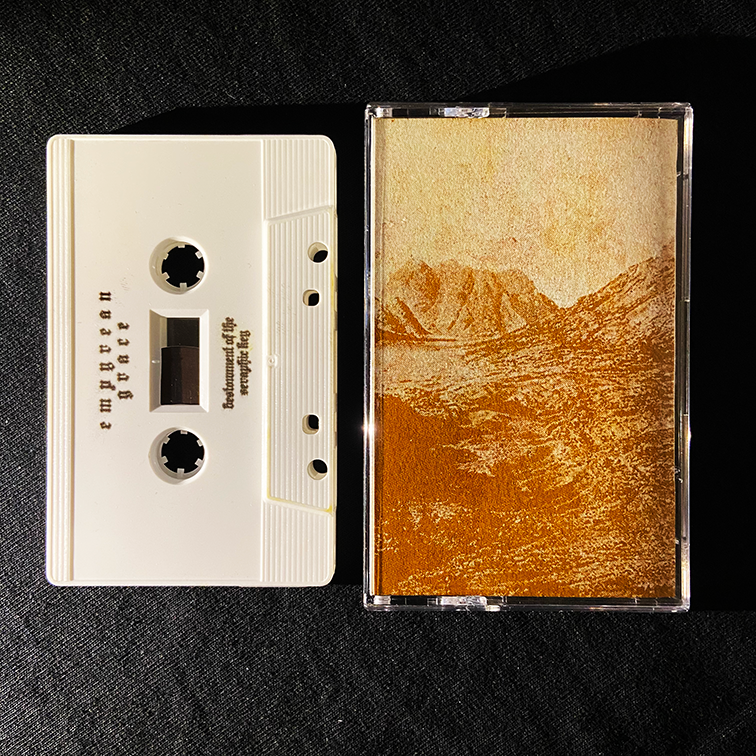 EXSUL Exsul (Self-released)
Pulled from purgatorial wastes by Arizonans Charon ("strings & curses") and Phlegyas ("sticks & spells"), Exsul is the kind of demo that brings 2020 to a close with a leaden finality like the slamming of a coffin lid. The four tracks that compose Exsul hit harder than ancient prophesied calamities unleashed. The eponymous opener begins quietly, with the click-clank of a chain in motion before Exsul flood your senses in a deluge of stygian sludge and death effluvia. More blown-wide-open than raw in sound, equal parts monstrously violent and miserably downtrodden, Exsul, with their single-Latin-word song titles and their shades of blue motif, are doing a lot of things exactly right when it comes to earth-shaking death-doom. Don't miss the tape repress coming from the band themselves; meanwhile Caligari Records will soon release Exsul on CD. - J. Proust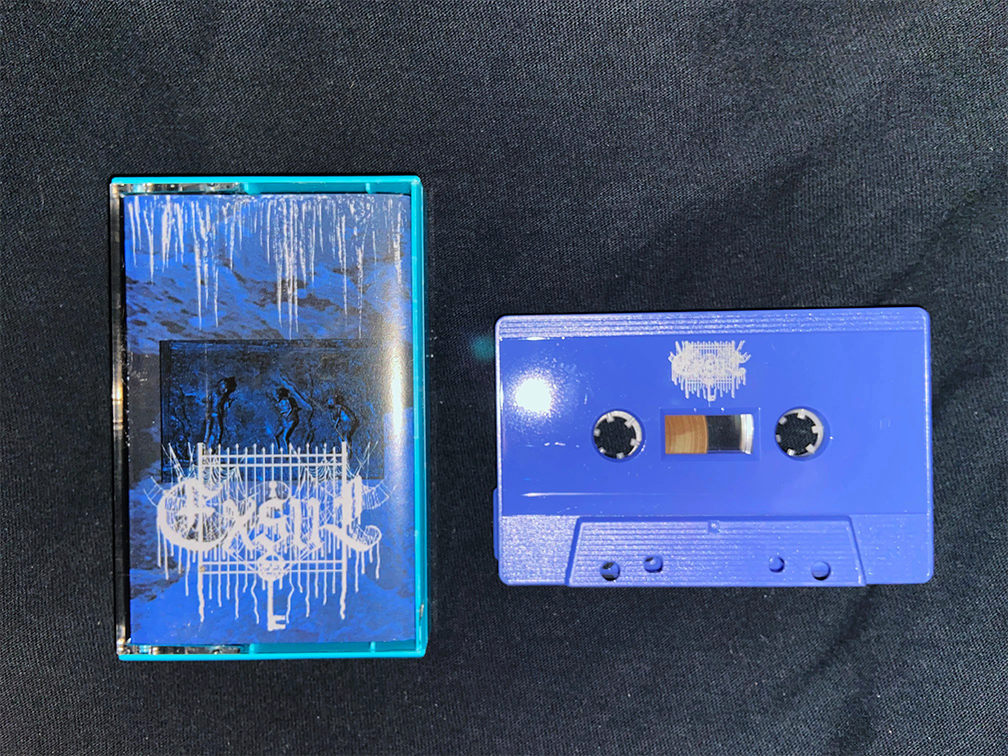 FIRE MAGIC Burning Gold (Stygian Black Hand)
From NYC's prolific Stygian Black Hand comes this powerhouse of a demo, displaying amazing depth over its all-too-brief run time of 15 minutes. Fire Magic has a sound reminiscent of the more melodic releases from the early Eastern European black metal greats, but contemporary sensibilities do rear their head every now and again. Production on Burning Gold is a nice diversion from contemporary "raw" black metal, wet and grimy but with a crackling warmth and lushness. The duo also make good use of acoustic guitars on this demo, which coupled with its production style give a nice little 1960s psych rock vibe every now and again. -N.B.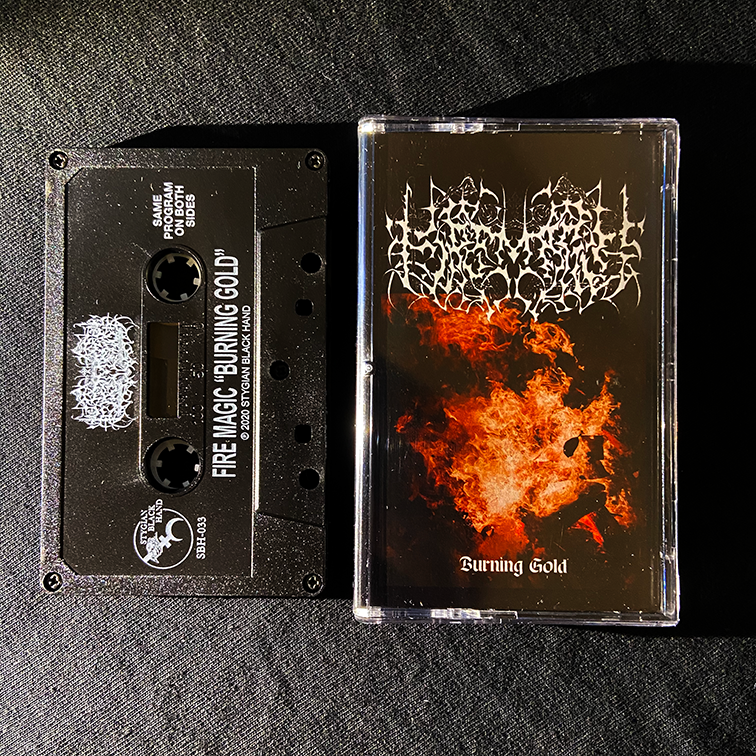 GRAVE TROLL Demo 2 (JEMS)
Over the past two years, JEMS has become home for numerous outsider black metal savants across the world, but on their second demo tape Grave Troll are more than weird, they're disarming. Friendlier but simultaneously more outré than their first demo from earlier this year, across the four tracks that make up Demo 2, Grave Troll sounds like zombie Brian Eno or the soundtrack to a children's television program scored by Grausamkeit. If you can get your claws on a copy, Demo 2 will make an excellent addition to that esoteric corner of your sprawling tape collection. My copy came in a teal case, a different shade of blue than the Exsul case, but just as calming and nice. - J. Proust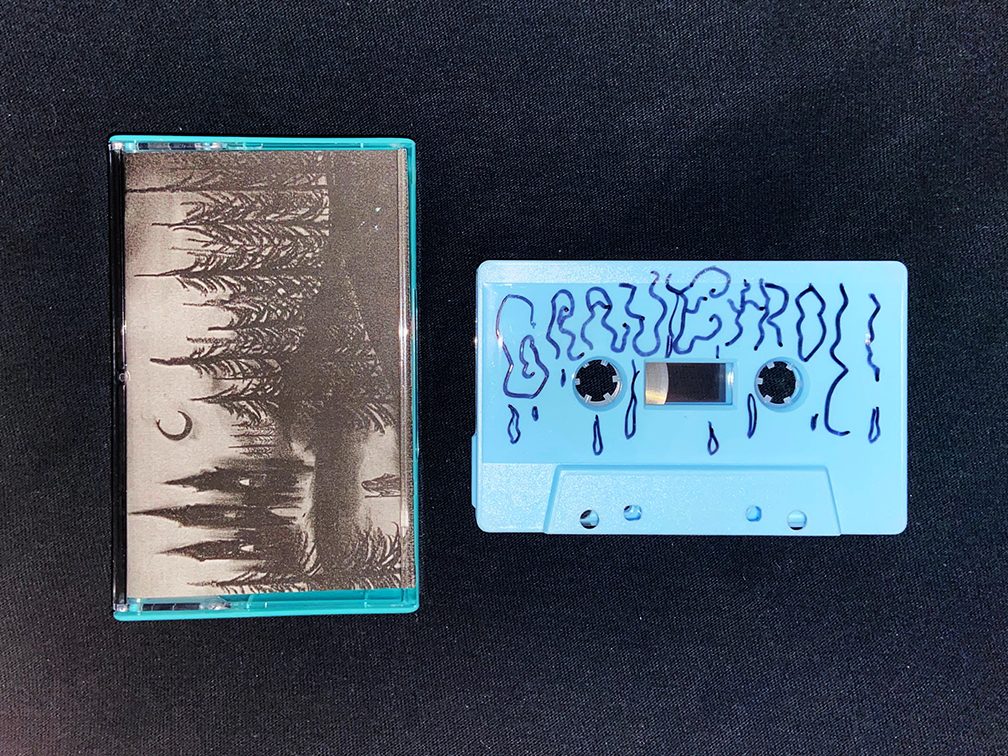 REEKING NIGHTSHADE Cerulean Abstrusity (Moonworshipper)
Does anyone else wish they could set up a subscription with Moonworshipper at this point and get a new tape delivered to their house every Friday? If Lord Bill insists on dropping mandatory releases every Friday like clockwork, let's arrange at least some kind of automatic payment plan. That way I'd never have to worry about missing a tape. And a new tape from Reeking Nightshade is not one to be missed either. Cerulean Abstrusity, like their debut, emanates distorted noise and ghoulish feedback, beneath which move the melancholic riffs and drugged drums of a certain kind of depressive black metal unique to this trio. Less abrasive than its predecessor, but more monochrome, Cerulean Abstrusity sounds appropriately veil-muffled and dream-like. And somehow copies of this tape remain available. - J. Proust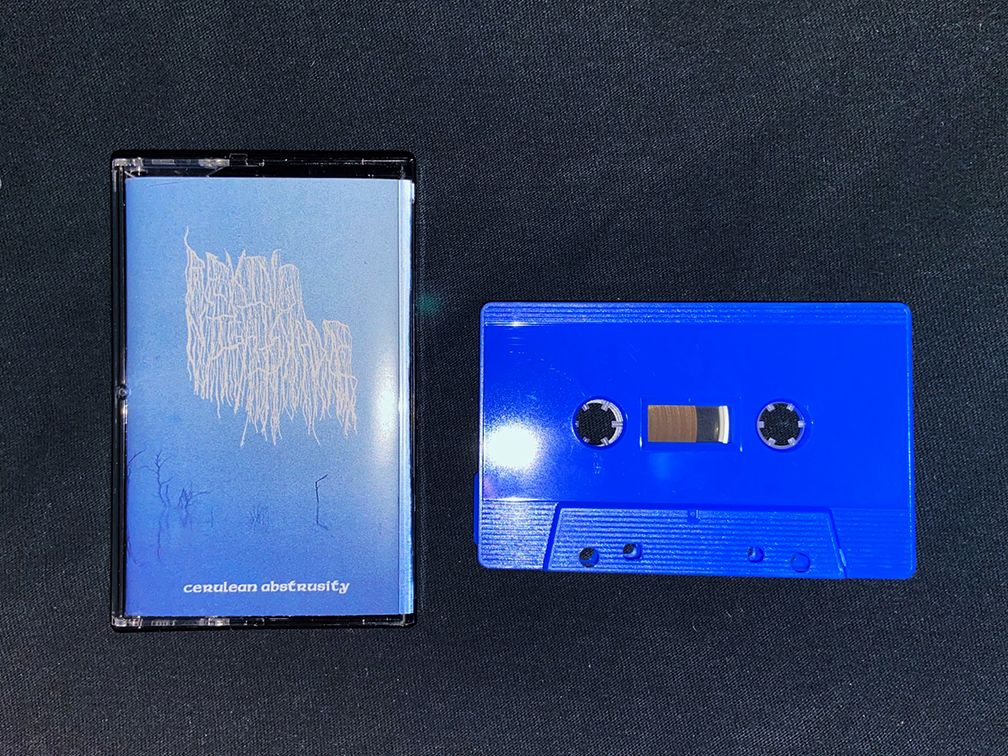 REGERE SINISTER Ad Tenebras Demo '20 (Self-released)
Boasting members of Ride For Revenge and Hail Conjurer, this new black doom duo spews forth a brief debut demo of low frequency pounding darkness. While guitar is present on this recording, the bass is what is front and center, leading the ritual. Heavy bass riffs drag you through this torture chamber while primitive doom drumming crushes the skull and a screeching guitar occasionally wails in the background as nightmarish punctuation at key moments. Fans of Beherit and Xantotol would be wise to seek out this demo tape. I do wish this had perhaps one more song on it as I think there was room and skill to add some more flesh to these bones so hopefully this is a sign post of what is to come next from these two pillars of Finnish brutality. -R.L.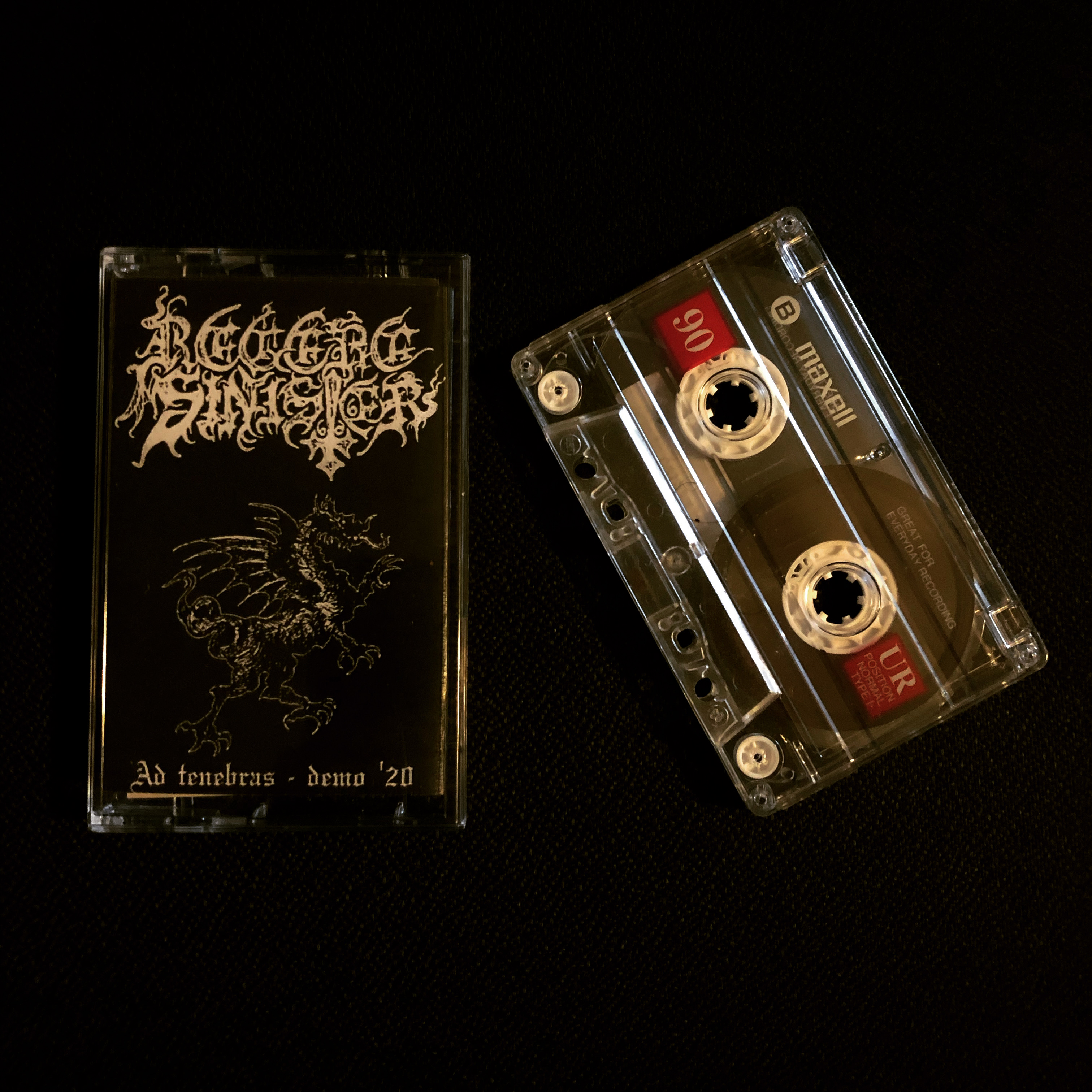 UPIR Howling of the Ageless Winds: Hymns for the Black Tapestry of Night (Bitter Misery Records)
Way fuzzed-out, raw, definitely improvised black metal which draws from a near-outsider source. This Canadian four-piece's first proper demo looks deep into the void, and the void is indescribable. It is confounding, brain-scrambling madness, and Upir's loose, "depressive" black metal is just that. Ethereal and almost shoegazing in atmosphere, Howling of the Ancient Winds: Hymns for the Black Tapestry of Night's endless noise creates a miasma of tone and implied harmony which might not even be there. Upir's first tape is distinctly void-staring and horrifyingly "out there" for the oft-conservative raw black metal style. -J.R.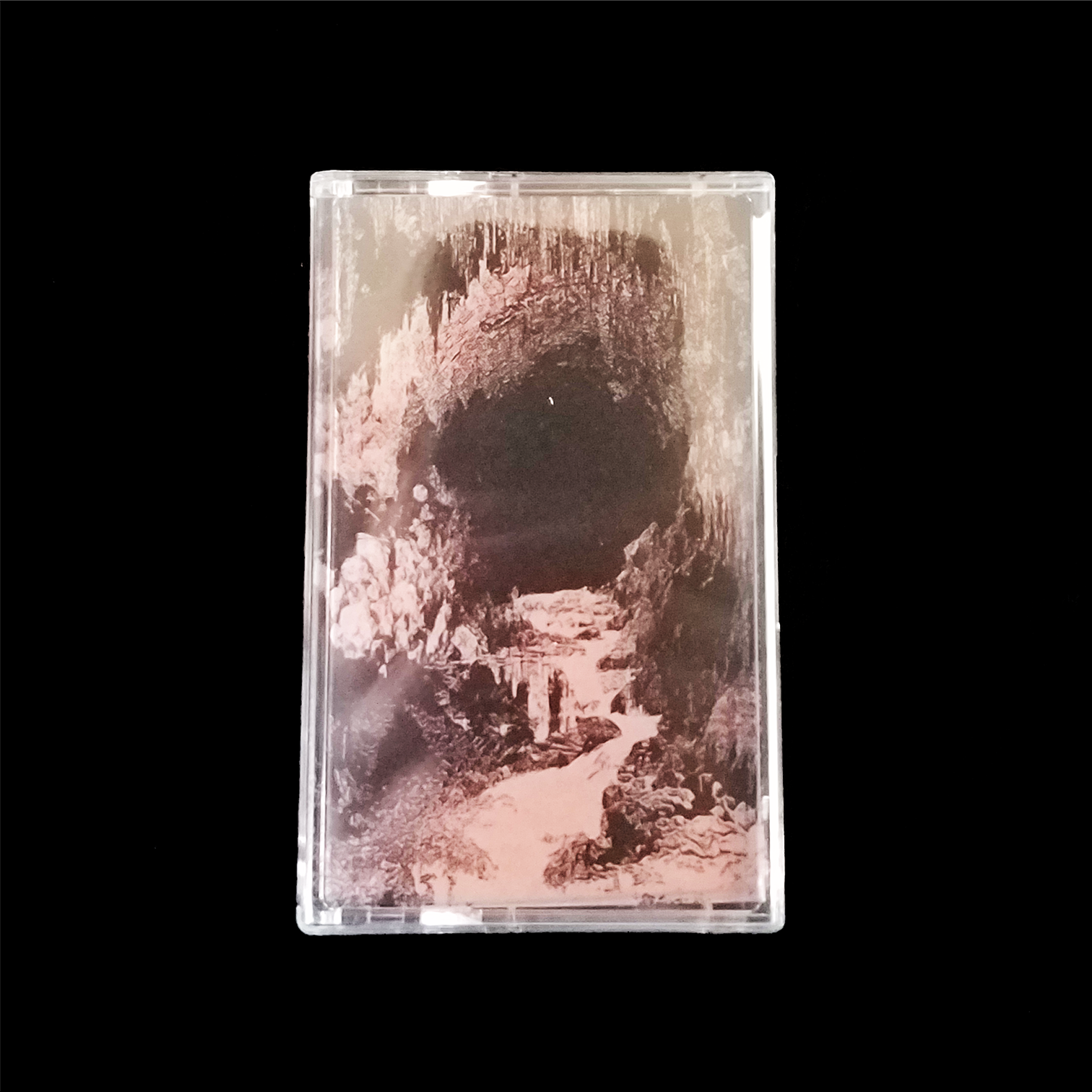 WHITEHAVEN Maore (Midnites Darkess)
Released by the formerly dormant Tasmanian label Midnites Darkness, this cassette puts forth essentially two sidelong compositions of positively morose doomy raw black metal. Side A has a lilting sadness to it while side B features a more prominent vocal performance and harsher guitars. While there is no information about this release anywhere on either the j-card itself or seemingly the entirety of the world-wide web, one can infer its origins based on its home label. If you are at all familiar with other work of Tasmanian bleakness then you will have an idea of what to expect from Maore. Pairs great with the chill in the air that tightens my joints as I type. -R.L.